Above The Fridge Cookbook Shelf
With any kitchen, storage is always at a premium! Some items you want to hide away, like pots and pans and some items you want to display. Displaying your cookbooks can be a great way to add a pop of colour to your kitchen without having to commit with paint or tile. The question then lies with where do you display your cookbooks? Lots of people opt to store cookbooks on shelves in their islands. If you browse the internet you'll find lots of inspiration on how and where to store your cookbooks as well as other beautiful décor pieces. The following photo was found on Houzz.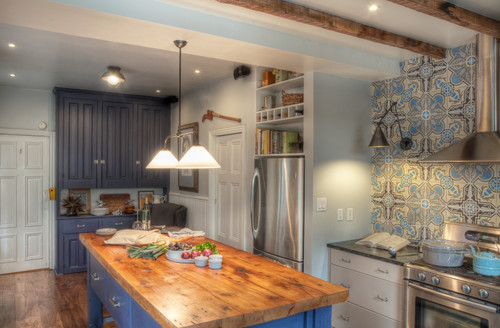 Farmhouse Kitchen by Philadelphia General Contractors Buckminster Green LLC
While it would be nice to have a custom kitchen, where the cabinet manufacturer would take care of a custom piece like a cookbook shelf, it isn't always feasible with project budgets. Miter's Revere Pewter Kitchen Update was actually an Ikea kitchen with added elements to make it look custom. Because the cabinet widths were pre-determined there was a limit with what could be done.
The cabinet that is typically located above the fridge can sometimes be forgotten. It is frequently quite deep (to accommodate the depth of your fridge) and often difficult to reach (because it is so high). Due to the limitations of a 'big box' kitchen we created a custom cookbook shelf for above the fridge.
We took the following steps to plan, execute and finish this custom piece for the Revere Pewter Kitchen Update.
Planning
When planning any renovation there are many things to consider, building codes, appliance specifications etc. For this cookbook shelf we needed to consider the ventilation space around the fridge. The specification called for 1-7/8″ of space on either side of the fridge and 2″ above for air circulation (to prevent the fridge from overheating). These specifications determined the height and width of the box for the cookbook shelf. There is nothing worse than items being lost in a cabinet that is too deep. It may seem like wasted space but limiting the depth of a cabinet (especially one as deep as above the fridge) can be beneficial. We created a false back, so the shelf was the depth of a standard bookcase.  This meant item's wouldn't fall behind and be lost forever.
Execution
Renovating is a fluid process, while it would be nice to say we can account for everything in the planning stage, it isn't always practical. Often time's construction begins and it sheds light on unforeseen issues or challenges. How you adapt to these challenges is what defines the success of your renovation. When we began the construction of this custom cabinet for cookbook storage we realized the height would visually look too large. At that point it was decided to add a shelf and wine storage above to break up the space. This decision was made on the fly and overall improved the design of the cabinet.
Finishing
After the construction of the cabinet was completed it was installed above the fridge between two gables. There were many other elements added to the kitchen to create a custom look (valences, crowns etc.). These were constructed out of the same material as the cookbook cabinet and they all needed to be painted. Our painter colour matched the cabinet colour and then sprayed all the unfinished pieces in the kitchen. The result a semi-custom kitchen!
Taking a kitchen from a 'big box' store can feel unimaginative and uncreative but it doesn't have to be. We at Miter Renovations & Design thrive on coming up with unique solutions and interesting design ideas to make your home beautiful. This custom cookbook shelf is just one way in our Revere Pewter Kitchen Update that we took a standard kitchen and made it custom. We want to help you do the same in your home. For more information or to book a consultation, contact us today.